Glass Canopy Tips
By:  Shabbir Kazmi AIA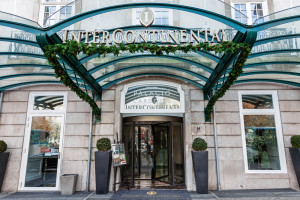 A glass canopy is an attractive and practical way to enhance your building entrance while also providing added curb appeal. Known as overhead glazing, an entrance glass canopy can keep the weather away and bring natural light inside the building. Here are some suggestions, if you are thinking about dressing up your building entrance with a new glass canopy.
Keep the design of the glass canopy simple. Integrating with address, signage or building name are excellent ways to provide brand identity and marketing; but remember less is more when it comes to first impressions.
Several factors such as weight, supports, size, wind load and location affect the selection of glass and steel supports. Glass should be high-strength tempered/laminate glass and its thickness should be specified by a professional engineer.
Frame-less glass and minimal steel supports are attractive available design options. However, glass canopies are

custom design projects

.  Always seek consultation services from a professional engineer who will review shop drawings, as well as assist in finding qualified contractors who have the expertise and experience to install a glass canopy.
Specify proper slope for water drainage; our recommendation is 15% slope, although every situation should be carefully evaluated. 15% slope provides quick water drainage and glass should not deflect over time.
Consider having a patterned glass to avoid having dust and water stains.
Plan for

gutter

and downspouts. Pay close attention to ice and snow build-up and institute a maintenance program which is crucial for longer life expectancy of the canopy.