Spring Cleaning Concrete
By: Chris Carlson, PE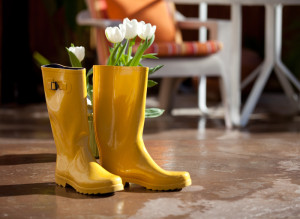 It's hard to find a building today without concrete surfaces stained by rust. Rust stains can adversely transform the aesthetics of a beautiful building.  How can rust stains be removed?  Let's find out!
Once rust staining has occurred, it is important to remove the stains without altering the color or finish texture of the concrete.  Two techniques which can be implemented are dry methods (i.e. sandblasting, wire brushing, grinding, etc.) and wet methods (i.e. waterblasting, chemicals, etc.).  If surface texture is not a priority, the dry methods can be a quick and cost-effective way to remove stains.  If the final finish is important, as is commonly the case with architectural concrete, chemical treatments are recommended.
Mild stains usually can be removed with an oxalic acid or phosphoric acid solution, applied to a water saturated concrete surface.  Deeper stains typically require a poultice, which absorbs the chemical solutions and then forms a paste over the stain.  Older buildings require more attention with stain removal because the chemical treatments may remove other contaminants in the concrete, creating a lighter color than the adjacent concrete.
The rule of thumb when putting a cleaning solution on your stained carpet or clothes applies with concrete.  Be sure to test different chemicals on small, inconspicuous areas to evaluate the treatment.  Also, the longer you let a stain sit, the more difficult it is to remove, so seek help quickly when rust stains appear!