Maintenance of Metal Guardrails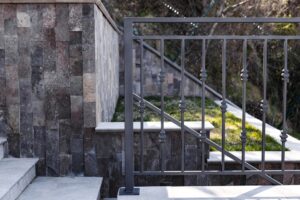 Metal guardrails can provide stylish, long-term fall protection for balconies, walkways, garages, and many other elevated structures.  While metal guardrails can last almost twice as long as wood guardrails, periodic maintenance is still required to ensure they remain serviceable and do not pose any life-safety hazards due to deterioration of the aging railing components. A few steps taken every few years can allow these vital building components to last well into the future of the building:
Understand your railings. Are they aluminum or steel? Do they have a protective coating such as a powder coating? Are they surface mounted or embedded into a concrete slab? The answer to these questions and many more are crucial to determining exactly which approach is best for maintaining your railings!
Routine cleaning of the guardrails will help remove built-up organic growth and other stains that could contribute to deterioration of the railing finishes.
Make sure water has a way to get out of the railings. Many times, these railing systems are comprised of numerous hollow tubes which can trap water that enters the railings through cracks or holes or from condensation build up.  The placement of weep holes throughout the assembly and especially at the post bases can help evacuate water from the railing interior, reducing the potential for corrosion of the metal.
Restore protective coatings. Peeled/missing coating will expose the underlying metal member to elements, exacerbating corrosion at these areas.  Recoating railings will ensure this protective cover between the metal and the environment will remain effective.
Clean corrosion as soon as possible! It is imperative to clean corrosion from steel members before it progresses to section loss. If holes start appearing in the guardrails due to corrosion, more intensive repairs measure will be required, including replacement of the member.
If you are looking for a professional evaluation of your building's railings, ETC can provide the evaluation services you need.