Project Of The Year Goes To…ETC!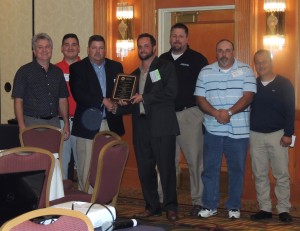 In the building repair industry, there is a technical organization known as the International Concrete Repair Institute (ICRI), founded in 1988.  The organization was created in response to concerns about the lack of standards and guidelines industry-wide for concrete repairs.  The vision of ICRI is to improve the quality of concrete restoration, repair and protection through education of and communication among the members; and, those who use their services.  Throughout the country, there are thirty-six (36) chapters that follow the guidelines and standards set by the national level.  This region falls under the territory of the Baltimore-Washington Chapter of ICRI.
Once a year, each individual chapter holds a project of the year competition and accepts applications from its chapter members.  Typically, the restoration projects submitted are unique and complex in nature.  This year, Engineering and Technical Consultants (ETC) was awarded first place for the Baltimore-Washington Chapter project of the year.
The project submitted was for a major roof replacement at Greens I of Leisure World, 55+ community located in Silver Spring, Maryland. Please view the slide presentation to see the extent of this  major restoration project.
[themify_button style="large light-blue flat rounded" link="/wp-content/uploads/2015-ICRI-Award_web.pdf" target="_blank" ]View Slideshow (PDF)[/themify_button]
Congratulations to Bobby Radcliff, P.E. (ETC) and everyone involved.  Job well done!