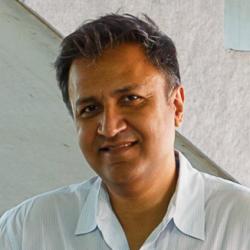 We are excited to share our recently completed wheelchair ramp for a historic building in Washington DC. The building residents wanted a ramp that provides handicap accessibility for their residents. We designed the new ramp at the exterior of the building that slopes from the grade level to the basement level with interior elevators. The residents with a wheelchair now have handicap accessibility to all the levels of the building.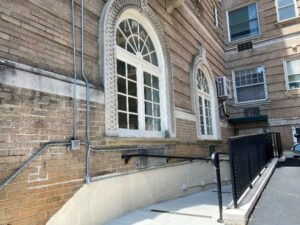 The process and construction required preparation of drawings and approvals from the Historic Preservation Office, Building Department and careful planning with Owners, Contractors and Manufacturers.
If you are planning to build a wheelchair ramp, also known as handicap accessible ramp (in a historic or non-historic building), it would be best to have a check list of design considerations before starting your project.
Familiarize yourself with the International Building Code (IBC), American Disability Act (ADA) and American National Standards Institute (ANSI) A117.1 that determines rules and regulations for wheelchair ramps.
Most of the states and local jurisdictions have adopted IBC governed by International Code Council. Always make sure to check with your local permit office for building code and permit requirements.
Handicap ramp requirement is eight (8) percent slope, that means your ramp should not be steeper than one-unit vertical in twelve-units horizontal. For example, if you are planning a ramp for a height difference of twenty-four inches (2 feet vertical), it will require two-hundred and eighty-eight inches (24 feet horizontal) of floor space. Maximum vertical height allowed in any ramp is thirty (30) inches.
Minimum ramp clear width is thirty-six (36") inches, minimum headroom height is eighty (80") and minimum landing width is sixty (60") inches.
The height of railings is between thirty-four (34") and thirty-eight (38") inches above walking surface. Handrail material can be wood or metal. We recommend finished wood handrail for interior ramps and corrosion-resistant metal handrail for exterior ramps.
If the ramp is located at the exterior, plan for storm water drainage and connection to site drainage system.
Safety comes first, consider slip-resistant finish material for the walking surfaces.