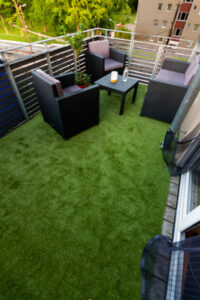 It looks good and it feels nice underfoot, but carpeting is one of the worst things you can do to a balcony.  Carpet, artificial turf and similar floor coverings tend to hold water, impair drainage and retard evaporation.  The longer water remains in contact with concrete, the more opportunity it has to exploit small cracks and the natural porosity of concrete in pursuit of a favorite target… steel (in this case the embedded reinforcement).  When water contacts steel, it usually results in corrosion (rust).  Rust occupies more space than the parent metal and the force that accompanies its formation is more than enough to shatter (spall) concrete that confines it.
 If you simply cannot live without carpet on your balcony, at least coat the concrete with a protective surfacing; but beware, appropriate coatings are not cheap (and mere paint will not suffice).  It should also be noted that carpeting will reduce the serviceable lives of coatings and fairly frequent re-application may be necessary.
 It's equally ill-advised to carpet wood balconies.  Prolonged exposure to water contributes to decay (rot) and distortion (warping/cupping) of the wood, as well as corrosion of steel components.

Retaining walls offer a mix of form and function. A retaining wall can hold back the soil behind it, playing an important role in preventing erosion, particularly on hills or in areas where plants can't grow. Retaining walls are also used to create flat, usable ground on hilly terrain for things such as parking lots and sports fields. A retaining wall can also enhance landscape designs. For example, a landscape architect or designer might build retaining walls to create different levels of terrain or different elevations in a garden.
Retaining walls differ from the walls that hold up a building or another structure. While the walls of a home or apartment building are designed to support vertical loads such as ceilings and roofs, retaining walls are meant to support horizontal loads. For that reason, the design and engineering of a retaining wall differ from the design and engineering of the wall of a building.
While there are similarities in the types of materials used for building retaining walls and other types of walls, some materials are better suited for use with retaining walls. In this guide, we'll take a look at some of the most commonly used materials for retaining walls.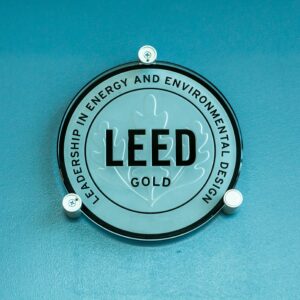 Among growing concerns for the Owners of existing buildings are the utility bills and the energy efficiency of the building's equipment.  A big question that is often asked is, "Am I living in a healthy indoor environment"? It is also very interesting to note that the wealth and health of an individual has a direct relationship to the overall energy efficiency of the building.
One such standard for improving a building's overall energy efficiency is Leadership in Energy and Environment Design, LEED Certification. Developed by the US Green Building Council, USGBC in 1994, LEED is a green building rating system that provides a framework for creating highly efficient green buildings and providing ways for cost-savings in new and existing buildings.
Among many of the benefits of having a LEED certified building are cost savings over the life of the building related to lower energy and operating costs.  Additional benefits include increased building value, higher rents, improved air and water quality, and a healthier work and living environment.
LEED certification is viewed from a perspective of a life cycle of the building. Therefore, project delivery is not only design and construction of the building.  LEED certification dives deep into the efficiency and optimization of building performance during occupancy, as well as the end of the life span during demolition and recycling of building materials. Thus, from the beginning of the project, LEED requires a vision that identifies green building goals, budget, timeline, return on investment and standards. This is an integrative process, that requires input from all stakeholders during the early pre-design phase of the project. The project team includes Owners, Occupants Facility Managers, Janitorial Staff, Architect, Engineers, Interior Designers, Landscape Architect, Energy Consultants, and the General Contractor.  LEED certification process ensures design, construction and building commissioning meets the agreed upon green building goals.
The LEED rating system is tailored to various buildings types, depending on the use and size of the building, as well as whether it is a new or existing facility.  The most common rating is LEED BD+C, which stands for LEED Building Design and Construction, which applies to new construction or major renovations. A LEED ID+C (interior design and construction) rating applies to the interior fit-out, LEED O+M (operation and maintenance) applies to existing building improvements, and LEED ND (neighborhood development) applies to new land development projects.
LEED has a major areas of performance criteria that can be measured through a point system. Major areas of performance criteria are Location and Transportation, Sustainable Sites, Water Efficiency, Energy and Atmosphere, Materials and Resources, Indoor Environmental Quality, Innovation and Regional Priority. There are prerequisite points that a project must earn, and each category has point credit system that defines a green sustainable goal. Project certification is based on 100-point scale system, which adds up to four certification levels: Certified (40-49 points), Silver (50-59 points), Gold (60-79 points), and Platinum (80+ points).
Currently, LEED certification for existing buildings is a growing trend and the most important reason for this trend is a healthier indoor environment and an energy efficient building.
As the novel coronavirus (COVID-19) continues to have a global impact on our daily lives, ETC is closely monitoring this constantly developing situation. For many of our clients, the engineering services we provide are essential to making sure their facilities are safe for others. We will continue to implement whatever is needed so projects and construction may continue during this trying time.
The safety and well-being of our team and clients are foremost in our minds, therefore we have implemented the following considerations: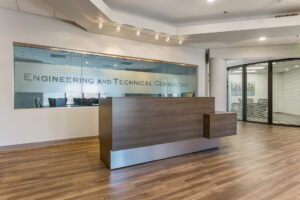 Our employees are working from home whenever possible
Our staff has suspended all upcoming travel plans that are not absolutely necessary
Where possible, we are scheduling all meetings (progress, pre-bid, pre-construction, etc.) as teleconference meetings
All employees are practicing appropriate safeguards (social distancing, frequent hand washing, etc.)
We continue to maintain a clean workspace for our team.
We're committed to being a valued partner, offering the support you need during this crisis and once it is over. Thank you for your continued trust.
On behalf of the ETC team, stay safe and healthy.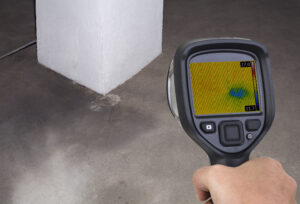 Have you ever seen someone tapping a concrete wall with a hammer? Or dragging a chain along a concrete floor? These are a couple of the conventional methods for evaluating concrete- that is, identifying and locating unsound or "loose" concrete. These methods are known to be noisy and typically require close-up, physical access to the concrete surfaces. You might wonder is this the only efficient way to evaluate concrete?
While there are numerous contemporary alternatives for surveying and evaluating concrete, many of these methods have limitations in cost, accuracy, or both. One method that has proven its accuracy and is already a well-developed technology is thermal imaging. Infrared cameras have been used to depict thermal images since the 1960s. Over the history and development of these cameras, they have been effectively applied in many industries including medical (detection of fevers), military and law enforcement (surveillance), firefighting, and many others. Recently, the technology of thermal imaging has found success in yet another application: evaluation of concrete structures.
Infrared cameras detect thermal radiation, or heat, and translate the radiation into a thermal image that the human eye can see. We can then understand temperature differences by the colors depicted in the image. Unsound concrete typically traps air beneath its surface. Since air heats up and cools down much faster than many solid materials, including concrete, a temperature difference between sound and unsound (delaminated) concrete is created and can be detected by an infrared camera. The thermal image produced by the camera will show a hot spot in the morning as the ambient temperature is rising, and it will show a cool spot in the afternoon as the temperature begins to drop.
Although thermal imaging applied to concrete structural evaluations has its own limitations (e.g. training required for the thermographer, availability of equipment, ambient temperature differences), it can serve as an accurate alternative to the conventional hand-sounding methods. For more information on this topic from a certified infrared thermographer, feel free to email spenn@etc-web.com.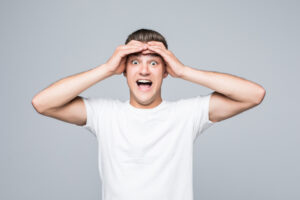 Two recurring complaints of residents in multi-family buildings are related to sound transmission and odors emanating from neighboring units.  Generally, sound related complaints are most often logged in wood-framed buildings.  This is usually because the wood floor support system is lightweight and relatively thin, with air space within the floor-ceiling sandwich.  This configuration allows sound to travel more readily.  As opposed to buildings made from steel and concrete, which have thicker floors that are heavier and tend to dampen sound transmission.  Both types of buildings use thin, lightweight walls to divide units, which do not dampen sound very effectively.
Often condominium documents require that the floors be covered in carpet and limit the exposed hard floor surfaces such as tile or wood.  This can help absorb and dampen sound related to impacts, such as foot falls.  However, the noise related to a loud television or music tend to be less affected.
Sound is a wave of vibration.  Solutions to reduce sound transmission can be found in two categories.  One option is sound absorbing materials, such as mats or insulation.  The other is isolating solutions, which often involve adding another layer of drywall placed on spacers to reduce the contact and therefore, the locations in which vibrations can travel through a wall or floor.
When white noise machines and other relatively inexpensive approaches do not work, renovations to the living space are the next step to addressing the offending noise.  Since the annoyance of disturbing sounds are related to individual tolerances and perceptions, it can be nearly impossible to eliminate sound transmission.  It is also costly to address sound, as well.  Thus, just the sleeping rooms are usually modified with sound dampening strategies.
Odors from cigarette smoke and cooking are the most logged odor related issues.  Gaps in the floor or walls between units can allows odors to travel.  Hunting down these gaps can be difficult as the smallest of openings can be the culprit.  First look for the most likely locations; gaps around plumbing pipes and exhaust or ventilation ducts that extend between floors and gaps around electrical outlets in walls.
Another likely source is a poorly sealed or a dysfunctional exhaust system.  Multi-story buildings often have a common kitchen and bathroom exhaust system that links all the vertically stacked units.  Sometimes these ducts are clogged, unsealed, or the rooftop exhaust fan is not operational.  Sometimes renovations to units include the installation of kitchen exhaust hoods or bathroom exhaust fans, which were not part of the original system design.  Adding these fans can disrupt the operation of the common exhaust system.
If sealing gaps around pipes and ducts proves unsuccessful at stopping the odors, the next step would be to positively pressurize the living space.  Most older buildings are negatively pressurized.  By introducing positive pressure in the unit, air from neighboring units cannot enter the living space.  This usually requires the installation of HVAC-type equipment to bring outside air into the unit.  This effectively makes the air drafts associated with the unit exit rather than enter the living space.  Newer buildings typically are positively pressurized, so this may not be an option in all cases.
Addressing sound and odor related concerns can be more challenging than stopping water infiltration, as small defects can result in large concerns.  Interior walls usually need to be opened to seal the gaps, which can be quite disruptive, and the efforts may be less effective than desired.  However, all is not lost, solutions do exist, and improvements or corrections can make a big difference to keep those sounds and smells out of your living space.
Here are a few ways to get the most value from quality assurance inspections to make sure your next construction project goes smoothly.
Review submittals and shop drawings– Have the quality assurance inspector review the submittals and shop drawings for the products that are to be used on the project. This will help the inspector familiarize themselves with the products to be used and how they are to be installed before the project begins. If there are any issues with the products submitted or the shop drawings, the inspector can address them long before the work has begun. Nothing delays a project like stopping work or redoing work that has already been completed.
Mock-ups – Mock-ups provide the contractor with a trial run before the actual project starts and can be crucial in preparing for the project. Ideally, the mock-up will include some difficult or important details (i.e. window/door install, balcony installation, weather barrier/below-grade waterproofing). This gives the contractor the opportunity to install the materials as they would on the building and allows the project team to work through complicated details and get an idea of how the install will go on during the project. Spending this time early in the project can help get the team on the same page prior to the main project starting and prevent improper installations down the road.
Pre-Construction Meetings – Pre-Construction meetings allow all parties to meet and review the project prior to the start of work. These meetings are a great time for different trades to meet and coordinate if needed. Also, they provide a chance for the Contractor to ask any questions or go over any complicated details prior to the start of the work.
Meet with the project team each site visit – Meeting with the project team (designer, contractors, etc.) during each inspection can help provide a better product in a number of different ways. It allows the team to discuss complicated details, issues that the contractors are having, non-compliance items that the inspector has noticed, etc. It also can allow the project team to inform the inspector of the upcoming project schedule and any problems or issues to look out for. Communication is key. The earlier issues can be identified and corrected, the more time and money that is saved.
Inform inspector/project team of any changes that have been made to the design – This keeps the inspector up to date regarding any changes made to the design of the project. If the inspector is not aware of changes, the work can be impacted. Often times, minor changes have to be made in the field to move a project along. Let the inspector know these changes so they are up to speed.
Include manufacturer's reps in the project – Having your product manufacturer's reps involved in your project can provide a number of benefits to the project, with the most important being that added experience of someone who is constantly working with the product. They should know the ins and outs of the product and should be able to address complicated details or issues with the installation. They are a vital resource to have.
At the end of the day, most of these items are related to preparation and communication. If all parties are prepared and communicate effectively, you can handle the problems that will inevitably arise during a project quickly and efficiently, which saves valuable time and money.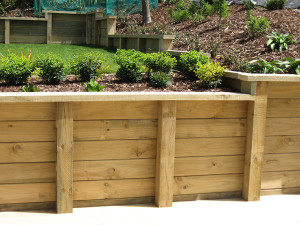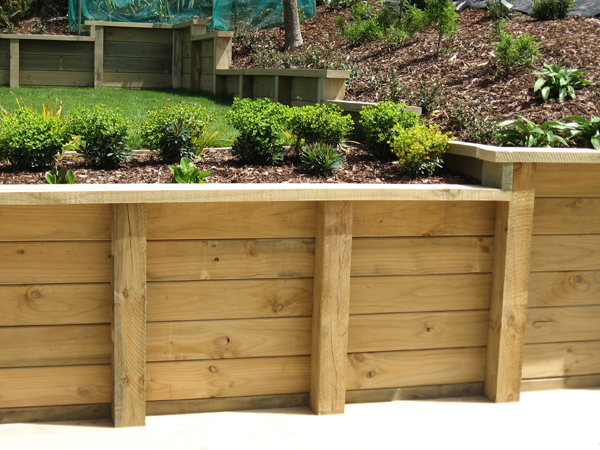 Preservative (pressure) treated wood is among the most common materials used in the construction of retaining walls. Ground-contact rated is standard for that use, but a GC label doesn't tell the entire story. The important factor is preservative retention – the amount of chemical that remains in the wood after treatment, usually expressed as pounds per cubic foot or PCF. Optimum levels vary with the chemicals used and some products considered suitable for ground contact have retention levels that are less than desirable for retaining walls.
The American Wood Protection Association (AWPA) lists three categories for ground contact use, General Use (UC4A), Heavy Duty (UC4B) and Extreme Duty (UC4C). Heavy Duty protection would be suitable for most circumstances. Extreme Duty would be appropriate in such locations as freshwater lake or pond side walls. AWPA has separate categories for use in marine (saltwater) environments.
The timbers most used in retaining walls measure six by six or eight by eight inches in cross section and full preservative saturation is difficult to achieve in material that thick. Consequently, the central portions are less protected and decay (rot) can occur deep within the wood before there's any visible evidence of distress. So-called Ground-Contact-rated, forty-year timbers can experience advanced deterioration within as few as fifteen years, while appearing sound.
In order to truly evaluate timber retaining walls it's often necessary to sample the material by extracting full-depth cores with a specialty bit. Usually, a simple visual examination is sufficient to determine the level of degradation. Sounding (with a hammer) can reveal advanced decay. Rot reduces wood to dust, which will produce a hollow sound if sufficient wood has been compromised.
There are factors apart from chemistry that can play into the performance of preservative-treated wood, including the position of the wood within the tree from which it was obtained. Preservatives tend to penetrate sapwood easier than heartwood. Species that contain more sapwood (such as Southern Pine) predominate in the industry. Other species (such as Douglas Fir) that have more heartwood are also used, but they require different processes, usually in the form of ammonia-based carriers. While ammonia has better penetration characteristics, it's also more corrosive to metal fasteners and fixtures.
Treatment chemical will inevitably leach out of wood and the speed of that process is governed by water. A proper drainage system consisting of a vertical drainage course (such as gravel) collection devices (such as perforated pipes) and discharge features (weep holes) will help slow the loss.
Retaining wall construction is typically a complex and expensive undertaking, but the cost difference between merely acceptable and superior products is relatively small. Retain the services of a professional to design your wall and specify the best materials. Your good judgment will be rewarded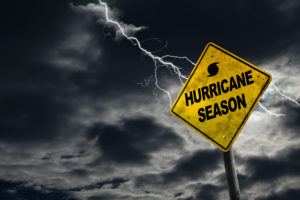 As Hurricane Dorian bears down on the Atlantic Coast, many are preparing for its arrival.  It seems like common sense to be sure that all exterior windows and doors to your house/building are closed.  In fact, studies have shown that open windows/doors increase the wind pressure acting on a building roof, beside letting in the rain to damage the building interior.  This led to the development of so-called Hurricane Windows.  These windows can resist the force of a flying 2×4 and other debris so that the wind and rain do not enter the house.
The Insurance Institute for Business and Home Safety just released a notice that their research has shown that you should close all the interior doors in your house as well.  This helps compartmentalize the wind pressure inside the house if an exterior window or door is breached during the storm and reduces the wind force on the roof by as much as 30%.  Check this link to learn more.
https://ibhs.org/ibhs-news-releases/shutting-the-bedroom-door-could-save-your-roof-during-a-hurricane/
Words can have a number of meanings and can even change meanings with time. This is especially true of terms specific to a technology or industry. Following are definitions of a few roofing and paving terms that people outside those trades (such as board members) may hear and not fully understand.
Overlayment – Placement of a new roof over an older covering or placement of a new asphalt surface course over an existing pavement.
Resurface – Install a new layer of asphalt (overlay) onto an existing pavement. Should not be confused with seal coat.
Seal coat – Apply a coal tar or asphalt slurry over asphalt pavement.
Tar – Stuff that dinosaurs got stuck in; the nasty stuff in cigarettes. Should not be confused with asphalt used in paving and roofing.
Coal tar – A byproduct of steel smelting used for producing pavement seal coating and interply waterproofing in some roofing systems.
Fishmouth – What a fish eats with; distorted membrane lap in roofing, resulting in an opening.
Shark fin – A closed fishmouth in roofing.
Spud – Tool for removing aggregate surfacing from a roof; the act of removing the aggregate; tater.
PRMA roof – Protected Roof Membrane Assembly, wherein the membrane is adhered, applied or laid onto the roof deck and is covered with a layer of insulation and ballast.
Ballast – Heavy materials (typically stone, concrete pavers, etc.) placed on a roof to hold down insulation or loose-laid membranes that might otherwise be blown off by wind.
Loose-laid – Not fastened or adhered.
Mud – Roof cement.
#$%! Gooey %&*@ – Roof cement.
Alligatoring – Interconnected cracking in pavement; pattern characteristic of depleted asphalt flood coat in roofing.
Flood coat – Hot (liquid) asphalt applied over top ply in built-up roofing system, usually followed by small aggregate surfacing.
Stoning – Installing aggregate surfacing in a flood coat on a built-up roof.
Resaturant – Material intended to rejuvenate asphalt in pavement or roofing by replacing depleted volatile constituents; waste of money.
Consultant – Someone who knows a hundred ways to make love, but doesn't know any women.
Pitch pocket – Roof flashing consisting of a receptacle for sealant (or pitch), placed around an opening through which utility lines or other items penetrate a roof.
Ever wonder what happens when an elevated steel and concrete walkway is not maintained?  Corrosion will render the metal decking supporting the concrete useless and then this happens.
There are many buildings in the Mid-Atlantic region with this type of walkway access.  We are often asked, "How long can I wait until I have to fix a structural deficiency."  It is impossible to predict when a structural collapse might happen.  Apparently, the owners of this 32-year old building waited a few days too long.
We cannot stress enough the need to perform regular maintenance rather than defer repairs until a major restoration project is needed.  Studies have shown that is it less expensive in the long run to maintain a building this way and your building does not end up on the evening news.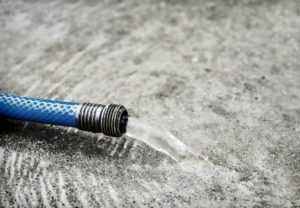 When the summer heats up, we often begin looking for methods of keeping things cool while outdoors. Whether we are trying to cool our gardens, our structures, or ourselves, water is considered one of the most effective tools in this regard. But not all things will benefit from added water, even on a hot summer day.
Concrete is the most widely-used building material in the world. It is celebrated for its compressive strength, which is produced by a combination of the chemical reaction between cement and water, and the presence of aggregate within the mix. The ratio between these materials within a concrete mix can have great effects on the strength of the hardened product. In particular, excessive water can have extended adverse effects on the strength of new concrete as it hardens and cures, and therefore can compromise the integrity of the resulting concrete structure.
Because of the impact that water can have on concrete strength gain, engineers have closely studied and observed the relationship between water content and concrete compressive strength. The figure below (https://www.engineeringintro.com/concrete/concrete-strength/water-to-cement-ratio/) is a graph representing that relationship, which shows the reduction of fully-cured compressive strength as the water-cement ratio is increased. The water-cement (w/c) ratio is the value of weight of water divided by weight of cement in a concrete mix. During concrete placement, the w/c ratio increases when water is added to the mix without also adding more cement. As we can see from the graph, the proportion of water within a concrete mix plays an important role in allowing the hardened concrete to reach its design strength.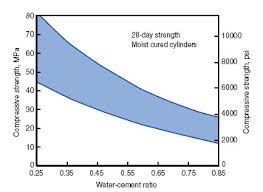 Each year, the hottest months of the summer bring plenty of concerns for new concrete, one of the primary items involving high temperatures (see our blog post, August 13, 2012). In an effort to keep a concrete mix temperature down, it is no real surprise that someone's first instinct might be to add water. But there are other effective ways to cool concrete without compromising strength- so that we can save some water and help build stronger structures.